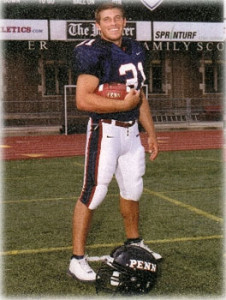 The Kyle Ambrogi Foundation was started in 2009 in memory of Kyle Ambrogi, a beloved son and brother, treasured friend and celebrated local athlete. The Foundation was founded by Kyle's mom, Donna, his brother, Greg, and several friends and family members. The ever-growing supporters of the Kyle Ambrogi Foundation strive to delivery on our mission:
To promote education and awareness of depression in teens and young adults and promote suicide prevention, while keeping Kyle's memory alive through academic scholarships and athletic initiatives.
Education and Awareness
Kyle struggled with depression just as many young men and women do each day. For a variety of reasons many depressed and suicidal teens and young adults do not seek the help they need to live a long and healthy life. Through education and advocacy, the Kyle Ambrogi Foundation aims to help all teens and young adults by working to removing the stigma around depression and mental illness, empowering those suffering to seek help, and providing individuals of all ages with the tools and information they need to support a friend, student or family member in need.
Academic Scholarships and Athletic Initiatives
Kyle was an exemplary student and athlete who proudly supported his schools: Ss. Colman-John Neumann, St. Joseph's Prep, and the University of Pennsylvania – as well as every team he ever played on – especially the St. Denis Bulldawgs,St Joe's Prep Hawks and the Penn Quakers. Since the classroom and football field were so important to Kyle, it is important to the Foundation to support young men and women who share these values. The Kyle Ambrogi Foundation has established a perpetual financial need based scholarship, with preference for a member of the football team, at the University of Pennsylvania, in the name of Kyle Ambrogi. The foundation provides a financial need-based scholarship to a member of the football team at St. Joseph's Preparatory School in Kyle's name.
ESPN Tragic Turn – Kyle Ambrogi
A story published around the life of Kyle Ambrogi can be found here which was on the front page of ESPN.com in early 2006.